Our Mission
Our mission at Turtleshell Studio is to help provide the best environment in order for you, the artist to achieve your goals. Our job at the studio is to keep you focused on your goal whether it be performing, producing or writing.
At Turtleshell Studio you leave the distraction of the city behind as you are immersed in a natural and creative environment. Record the way you like as our hosts will make you feel at home.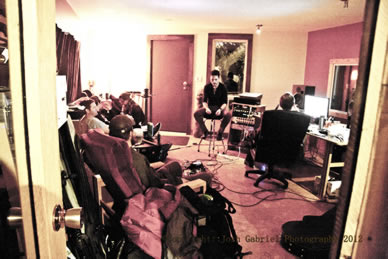 Musical Community
We've met many musicians over the years and at Turtleshell Studio we try to bring these people together to share ideas and talent. Our Hootenannys (jam nights) bring together many different musicians to try their hands at playing different styles of music and various instruments. It's a time to collaborate and experiment with other musicians. The Hootenannys have been running on Saturday nights (whenever possible) for several years now. Keep an eye out on social media or at this site here to find out when the next one will be.
Promoting Talent
Our music artist are also our first choice when selecting music for our video projects. We enjoy featuring the work of musicians that have recorded in our studio.
Our in house project Out Of The Shell is a web series that features mainly local artists performing a live track and then talking a bit about themselves.
Keep up to date on our website or with our twitter feed. Feel free to contact us to talk about music or about coming by to see the studio.
The Turtleshell Crew,
Phil, Josh and Jake